Security Gates, Gate Repairs, Access Control, CCTV Security Cameras & More in Tampa, FL & Other Locations Throughout Central Florida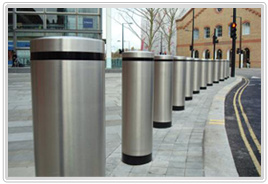 Whether you're looking to increase security at a federal building, control access to a courthouse, or are interested in more privacy at another type of facility in Tampa or elsewhere in Central Florida, a security gate and gate operator from RS Security Consulting is the perfect choice. At RS Security Consulting, we provide a complete solution to our clients' security needs and have extensive worldwide experience performing high-level security contracts for federal and military facilities.
With a strong background in designing, installing and maintaining security gates, crash barriers, mobile surveillance, and much more worldwide, the staff at RS Security Consulting works with our Tampa, FL, clients to customize and install a system that meets their unique needs. Additionally, RS Security Consulting offers preventative maintenance contracts, so you can rest assured that your gates will continue to work properly for years to come. And, if any part of your security system fails, whether it's your gate, gate opener, or security cameras, you'll be pleased to know that we offer repair services to anyone who needs them – we'll even repair systems that were installed by another company. We are also able to retrofit existing gate systems with access control products, including key card access, telephone entry systems, loop detectors and more.

Video Surveillance, Crash Barriers, Remote Entry, Security Systems, Bollards, Software & More in the Tampa, FL, Area
There are few things more important than ensuring the safety and total security of your Tampa, Florida, property, which is why RS Security Consulting is proud to offer a variety of surveillance and security systems, including CCTV cameras, barrier gates, bollards, access control, card readers, biometrics, motion sensors, night vision cameras, and more. We understand the importance of having a security system that is discrete, functional and reliable, and we are proud to offer the most advanced equipment and expert installation to all of our clients.
RS Security Consulting is not your average security technology firm. With security clearances through the Department of Homeland Security and the Department of Defense – plus extensive experience in designing and installing security technology worldwide – we have the manpower, resources, and firsthand knowledge necessary to do any job right the first time. We work closely with all of our clients to help them select the surveillance and security system that's right for their individual requirements. Whether you're in the market to secure and monitor your airport in Daytona Beach, or need to add a crash barrier outside your government building in Sarasota, look no further than RS Security Consulting.
Contact us today to learn more about all of our products and services and to schedule a consultation with one of our security experts at your facility in Tampa or another city in Central Florida.